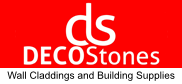 Grenada Graphite Tile – Internal and External Stone Cladding
A modern twist on classic beauty. Make every surface expressive and welcome nature-inspired aesthetics to your home. Grenada Graphite is a product for all those who appreciate things of high quality. Inspired by the look of stone, the tile is deceivingly close to its original.
PRICE PER BOX 0.32 SQM
Product Successfully added.
Description
Decorative stone cladding Grenada Graphite is a concrete tile designed to resemble natural stones in its deep graphite shading. Inspired by Spanish landscapes, these blocks are stunning when placed outside and add an extra flair to modern architecture. A faceted structure creates an elegant pattern that looks perfect inside too, introducing a touch of the unexpected. The product was created from modern materials by one of our preferred brands and offers durable appeal for years.  And since the Deco Stones Grenada collection is also frost resistant, it can be used either indoors or outdoors in different applications such as on walls or as an ornamental feature on fences or terraces.
Tile dimensions:
Product Details
Color

Graphite

Material

Concrete

Pieces in box

5

Thickness

38mm

Frost resistance

Yes

Heat resistance

Yes

Application

Internal & External
Customers who bought this product also bought:
16 other products in the same category: